From the Desk of Hon'ble Pro-Vice Chancellor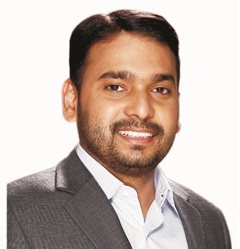 Hon'ble Dr. Vishwajeet Kadam,
Pro-Vice Chancellor,
Bharati Vidyapeeth (Deemed to be University), Pune
Dear Students,

I am extremely happy that you have chosen this University as a stepping stone for your future progression as a professional.
Dr. Patangrao Kadam Establishes Bharati Vidyapeeth at the age of 19 in May 1964. Within a span of few decades, he developed it into one of the largest educational organizations in the country known for its high academic excellence within the country and beyond. Dr. Patangrao Kadam had envisioned metamorphosing Bharati Vidyapeeth into a full-fledged University, which came to be true in April 1996 when the Government of India conferred the status of 'Deemed to be University'. Its high academic standing has been acknowledged by the NAAC which has awarded it with A+ grade successively in three rounds. The University is placed under Category – I by the UGC. The university has been ranked 66th among Universities by NIRF – 2018.
Current global challenges require graduates with advanced skills who will drive growth in the industrial and technological spheres and one who continues to learn so as to grow professionally and personally. The constituents units of Bharati Vidyapeeth (Deemed to be University) will provide enabling platforms where student learning is enriched as per requirements of the industry.
We dedicate our intellectual resources to advancement in the field through research activities so as to develop and empower students with requisite expertise and understand and address changes impacting the world. Our close linkages with industry has enabled development of curriculum based on latest industry requirement, experiential learning with the help of experts and career progression through placement. In testimony are our alumni who are working in the best organizations globally and as successful entrepreneurs.
Through our guiding principles we are committed to provide quality education in different disciplines and a conducive environment to be an effective contributor professionally and for the growth of the nation.
I once again welcome you, and wish you all success in your academic pursuit.
Dr. Vishwajeet Kadam,
Pro Vice Chancellor