From Desk of Hon'ble Vice Chancellor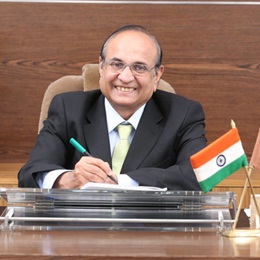 Prof. M.M.Salunkhe
Vice Chancellor,
Bharati Vidyapeeth (Deemed to be University), Pune
Dear Students,
It is a matter of immense pleasure for me to be a part of the Bharati Vidyapeeth (Deemed to be University) family as its Vice Chancellor. I take this opportunity to welcome the new students joining the various courses of the university. In most of the cases, students move away from the folds of their family and come to a new place for education. They need to feel that they are just moving away from one family fold to another. Their teachers, seniors and peers, all form an extended family from whom they can look up for any guidance, support and help to move ahead in life as professionals in the study programs they have opted.
The Center for Health Management Studies and Research, is an important center under Medical College which is gaining importance, mainly owing to the challenges faced in the Health Management sector. There has been an ever increasing number of hospitals with diverse and varied nature of nursing homes, small private hospitals as well as multi - specialty tertiary care hospitals, large numbers of which have evolved over the last few years. In the absence of a particular format in their functioning or regulation, there is a need of enhanced governance, as training and development of the health care managers. This can play a crucial role in setting the background for this change. With this focus and challenge in mind, the Center for Health Management Studies and research has been set up at the Bharati Vidyapeeth (Deemed to be University). It is among the only few institutes in the country to provide hands- on experiential training in this sector of learning/training. Further, the multi- disciplinary nature of the campus provides conducive learning environment for personal and professional development of its students through various activities. All these, along with the serene environment of the campus of the university with ICT attributes are bound to enhance the student potential. I, wish and assure you, on behalf of the University family, that we will help you pursue your objectives of life under the varied social, cultural and economic environment and make the University family proud of your attainments.
Prof. M.M.Salunkhe